Learning is at the heart of everything we do
It all started when Tom, a young video artist, fell in love with drama. Soon after he began producing corporate video, he found that using emotion to communicate ideas is a powerful way to learn. In 2003, Nice Media was born with the purpose of creating video for learning.
Driven by the latest in learning theory, we continue to develop the way we use video-centred learning for workplace change every single day. By combining video with emerging technologies, we give our clients a faster, simpler and more powerful way of making their development goals a reality.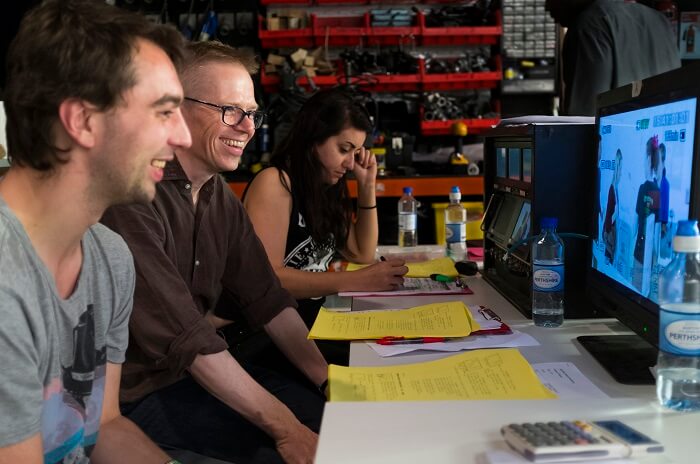 Meet the experts in video for learning
Click our portraits below to get to know the team better
We'd also like to introduce the Nice associates
It's not just about video
Whether you need a campaign based on user-generated content, an international documentary, a multi-character drama or an instructional video combined with AI for recall, our team has the skills to make video work for you.
After 16 years nailing the fundamentals, we know how to design content that gets real results. But above this, what really brings us together is our love of learning. Every day, we're charged up knowing what we do empowers and supports people.
This is our core team, but of course, like many production companies, we work with a network of trusted freelancers. These technicians and actors allow us to quickly scale up and down when needed, giving you access to the best possible talent.
"The whole Nice crew are really great - super organised, amazing attention to detail and really good with the end client, checking it at every stage that they're happy."
Our offices are located in the quirky and colourful seaside city of Brighton. We're not sure if it's the sea air or the fact there are around 900 bars, but there truly is no place quite like it anywhere else in the world. We'd love for you to experience the energy of this creative hub for yourself. If you prefer to meet in person and talk business over coffee, let us know and we'd be happy to show you around. We're just a quick 5-minute walk from Brighton Station and close to London Road car park if you're coming to visit.
"The whole process with you was thoroughly enjoyable. Your attention to direction was sublime and I felt reassured and in good hands at all times."
Some of our most recent video production work
Supporting intelligent businesses with better video content
Talk to our team and learn how you can benefit from our services