After attending the fantastic Learning Technologies 2016 event this week, the team here at Nice Media had a think about the main themes that we brought away from the 2-day exhibition and conference. We've put together some of the most important things we found out – if you attended the event, how do your ideas compare with what we learnt? Feel free to comment below!
Cara Ghoshal – Production Manager
While it's been a theme for a while, what really stuck me this year was just how much focus there was on Millennials/Gen Y-ers – a group I can indeed count myself in. The statistic that they (we?) now make up 80% of the workforce is everywhere, and everyone is having to think about how they engage a group who are used to getting their how-to's from YouTube and having information at their fingertips. Certainly it looks like mobile, gamification, and of course, video (hurrah!), are all going to be key going forward.
Melanie Hickmore – Managing Director
I saw two inspiring talks on learning management systems and blended learning. Drew Clare gave an overview of the global 'KPMG Business School' and we heard from Andrew Lax about 'Philips University', the organisation's LMS platforms and how they are now embedded in their L&D culture. LMS platforms are here to stay and research suggests they will proliferate. LMS platforms facilitate the blends of learning that more and more organisations are moving towards. Martina Donnelly from PwC showed us a fantastic project management blend including, amongst other things, branched scenario storytelling, games and dynamic feedback so you could gauge your success at every twist and turn. Video remains a key part of all blended learning, and it was good to see it being used so creatively. On line blended learning is becoming an immersive learner experience. By delivering a creative and engaging learning blend on a user-friendly platform, organisational learning success can rocket in terms of effectiveness and efficiency.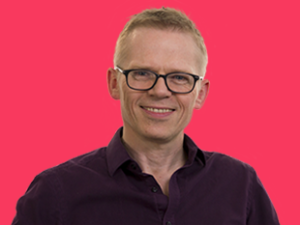 Tom Hickmore – Creative Director
A theme I detected at LT was that of making a learner experience like a consumer experience. For example, Tesco Bank had done some interesting work on modelling their internal consumers along the lines of a marketing agency. Futurologist Ben Hammersley drew our attention to the truly immense popularity of user-generated content online. And user-generated learning content, including video, was another visible trend at LT. I very much celebrate user-generated content, but the question remains where does the professional video maker sit in the future world of learning? My immediate answer is both in designing the video learning and also in creating very high quality video content because, as in the consumer world, there is still a desire and a place for this.
Francesca Cane – Client Account Manager
One theme that I connected to this year (probably unsurprisingly as I used to do Nice's marketing) was the emphasis placed on marketing learning within organisations. Across a variety of the talks companies discussed how they'd treated their learning projects as marketing campaigns to gain learner buy in. If you want a good example of this, check out Channel 4's diversity training (featuring Ali G, for a bit of the noughties nostalgia!).
Alice Whiting – Marketing and Office Coordinator
Something that seemed clear this year, even just from the amount of talks on the subject, was that people are now considering video as an integral part of the best quality elearning. Millenials coming into the work force are not only used to video, but are seeking flexibility and learning experiences on multiple devices. To keep learners engaged, it seems trends are heading towards video that is bite-sized, and has interactive features such as branching scenarios, clickable hotspots and gamification. It wasn't surprising to learn that 98% of organisations use video in digital learning. It seems people are catching on to how much video really can give an immersive experience for learners.
Richard Gibbons – Cameraman/Editor
At learning technologies this year, it struck me how much extra emphasis is being put on video in learning. In many forms, from traditional video, to gamified and branching etc, video appears to be growing in importance as people move with the changing landscape. Television as we knew it no longer holds as much sway, online and on demand really are beginning to actually take over now. As I heard in many talks this year, learners, like TV viewers, want to be more in control of their experience – and it feels more and more that video is being embraced as one of the best media to achieve this.