One of the most rewarding jobs we worked on in 2019 was the development and production of video drama content for a MOOC about Safeguarding Adults for Health Education England.
In this article I'm going to write a rather fulsome report of the process, as I hope you might be interested in how a video moves from brief, to idea, to script, through to production.
A new challenge
I was excited at the outset of this project, because I'd long considered the MOOC an excellent setting for video drama and this would be my first opportunity to put it into action. I could see there was great potential to add a lot of value with our content. I also looked forward to working on a course that could make a major contribution to helping vulnerable people. Some of the material I absorbed in the run-in, about modern slavery for example, was very distressing and has changed the way I look at Britain.
Embarking on a project like this before any of the content has been written necessitates costing with notional production parameters. We'd made a drama for Health Education England the previous year, so they knew we could get a lot out of a day of filming. So, our estimates were based on a day of filming with a cast of 6. As the project moved forward, we evaluated the ideas in the context of this budget. Writing to a budget is the best way to get the most from the resources available.
The working group for the project met at the FutureLearn office in Camden. The team included a project manager, a learning designer, subject matter experts and MOOC consultants from FutureLearn. Apart from a list of aspirations as to what we needed to achieve and a schedule, little else was decided at this point.
The course would enable learners to:
Describe overall safeguarding best practice at Level 3
Identify specific safeguarding services in your particular context
Discuss the roles and responsibilities of interagency safeguarding
Describe good practice in communication between Healthcare agencies
Discuss the role of communication between Healthcare agencies when forming a care plan
Explain the relationship between confidentiality and safeguarding
Describe the characteristics of good safeguarding documentation
Identify actions which follow from reflections on safeguarding best practice
Summarise the role of supervision in safeguarding (Level 3)
Drama stimulates thought
My early contribution was to give a short presentation about the best use of video drama in a MOOC. Drama can provide insights into the difficulties of dealing with complex of issues. Drama is most powerful, and most dramatic when it depicts a dilemma. If you can do this successfully, most viewers will engage with the dilemma and want to solve it. This is exactly what we want in a MOOC – to stimulate learners to discuss what the characters did wrong or well and how it could have been different.
Drama isn't the place for the facts and figures, theory and procedures – it's where you stimulate emotion and engagement about the application of the learning. If we can bring insight and emotion, learners connect with the need for study of the difficult, detailed content and go at it.
The first suggestions we got for video scenarios were quite various. The ones I pushed back against were those that used drama to directly show the shocking effects of lack of safeguarding, namely violence and cruelty. Apart from the fact that such things are not very cost-effective to stage, my feeling was that, while they might be initially engaging, or at least attention-grabbing, they were not going to further our understanding of safeguarding. Indeed, the core learning was about multidisciplinary working and this content wasn't going to serve that well.
An idea forms
After a lot of juggling with costs, and reflecting on the video content suggestions, I went back to the group and asked if there were ever meetings to establish what went wrong when a multidisciplinary team had failed to protect someone and it had led to a death. There were, indeed, and I suggested this as the subject for the video content. The meeting would be for professionals with a safeguarding role in the case to create a narrative for a forthcoming Safeguarding Adults Review.
My main reason for this suggestion was that it could depict a highly emotional situation without the need for re-enactments. If we think of a powerful horror movie like Alien, we don't see the more than a hint of the monster till right at the end of the film – the horror is thus better created in the head of the viewer. By showing a multidisciplinary team discussing a death, each professional watching will be able to reflect on how they might have found themselves in this situation, and of the impact that the death would have on them. In addition, this treatment would be cost-effective, allowing a lot of high-quality output from our day of filming.
Fortunately, the group could see the merits of my suggestion, which incorporated a lot of their video content aspirations. The solution also had the advantage that it would show multidisciplinary cooperation in action. A film of a meeting sounds pretty dull, but this was going to be powerful. To give us some variation, and to allow us to bring in some elements of exposition, we added intro and outro scenes consisting of vox pop style interviews with each character. In the intro scenes they introduced themselves and said what they wanted from the meeting. In the outro scenes we asked the characters what they had learned. The latter served as a reiteration of some of the important learning points.
Bringing the idea to life
The next stage was to map the content of the meeting across the modules of the MOOC so that the relevant subject areas were dealt with as the story of the meeting unfolded.
The subject of the meeting became Sofia, a young woman who had been trafficked from Romania as a sex slave. She was made a heroin addict and her six-year-old daughter was threatened with acid in order to keep her compliant. Other problems manifested from her dysfunctional situation. She was found dead, a victim of violence.
The content of the meeting was written up in detail by one of our brilliant subject matter experts, and this was the key document that our scriptwriter used to develop the script.
We also helped the SMEs to come up with character descriptions which we used to cast the actors and to style them – with clothes and props.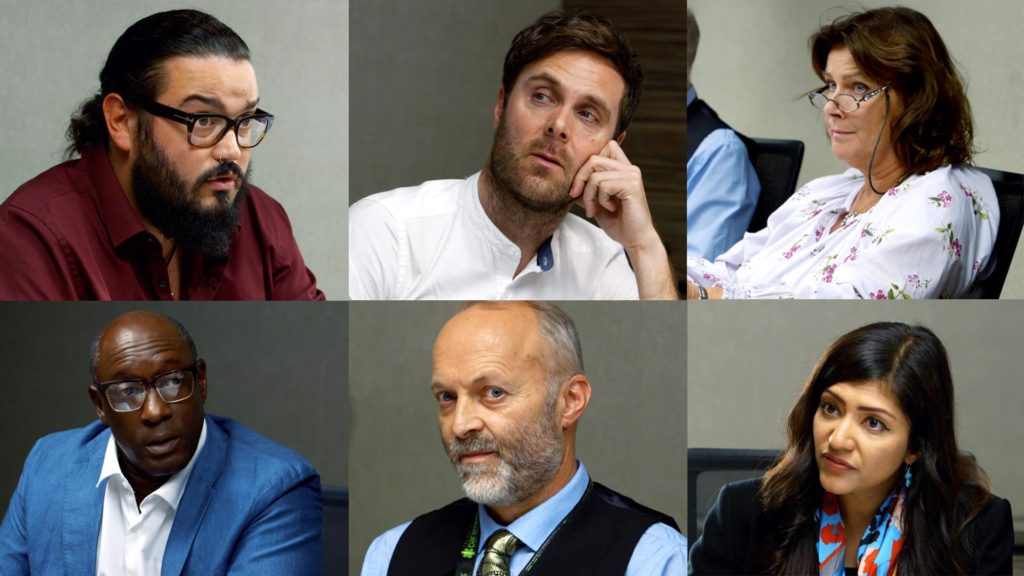 The other major thing we needed was a location, and HEE offered us a few rooms to fit our criteria. After a recce, we settled on one of their regular conference rooms in a London hotel. As well as using the room allotted to us, we'd use corridors, the coffee area and even the car park in which to film the vox pops – maximising the value we could get from the venue.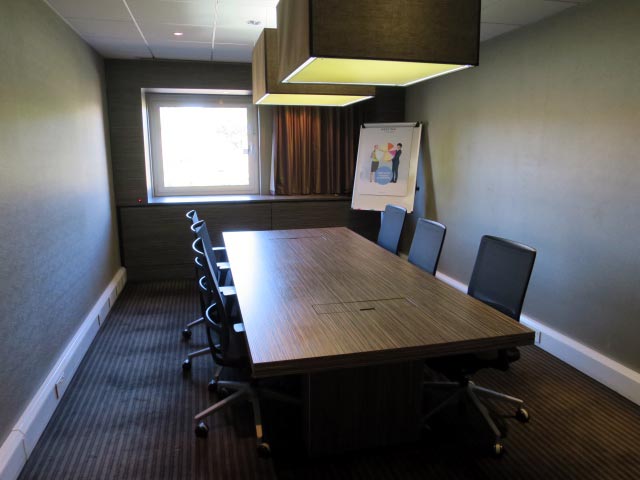 As is our usual process, we provided the client with a shortlist of candidates with showreels for each role. Once the cast was confirmed, we lined them up with our costume stylist who dressed them, and made them up in line with their character profiles. We had some colourful characters in this show – one with a sleeve tattoo and face jewellery, another with a pocket watch in his waistcoat. It all goes to give the production colour, and make it feel more convincing.
Lights, camera, action!
We had a lot of quick set-ups as we ran around the place to film our mock interviews.  Naturally, we'd pre-planned where to do this.  To keep the tech less fiddly so we'd move faster, rather than using an autocue for these, we just printed the text on a big bit of card that we held up next to the camera. 
The main set up for the meeting featured all of the cast around a single table.  The way to get the most output from such a set-up is to design the lighting so that it allows multi-camera filming.  We fixed a few LED panels into the centre of the table as our main lighting source, and only used lights on stands to give the occasional lift to a shot.  There was, anyway, very little space in that room, with all the monitors, cameras and crew, for any floor lighting. 
With two camera operators we shot with 3 cameras, giving us plenty of coverage. Even so, because the interactions between 6 people around a table are so complex, this needed careful planning and mapping to ensure we got the right coverage.
The sound recording in dramas is easy to overlook. The sound department are quiet – they're listening! When you're filming on 3 cameras it's difficult to boom the sound because you get into the shot. The way we dealt with that was to have the two closer cameras handheld (which gave a documentary feel to the piece) while the 3rd was unmanned and locked-off. This allowed us to "paint out" the boom in the wider shots, after which we added fake handheld wobble.
If you're a client on these shoots, and that includes our SMEs, we try to explain how each set of shots will be used in the final edit (some are core, some are just to help cutting) and we carefully seek feedback to ensure the right tone is coming across, as well as all the other elements of a performance that make it appropriate and realistic.
It was a fun filming day, with a lovely team.
Back in the edit suite it turned out that one phrase had been said incorrectly by an actor and there was only one clear recording of that line. These things happen. I contacted the actor, sending him his original recording as reference. He was kind enough to record himself reading the line several times into his mobile phone. He sent me the clip and we managed to dub the line back into the scene seamlessly.
The course is launched
As the MOOC developed, Sophia's story became a narrative that was used to hang a lot of the learning on, which was a nice affirmation that we'd chosen a productive route for the drama.
It should be noted that the MOOC content was also provided as materials for a live workshop, including, of course our videos.
The MOOC was launched on January 27th 2020 with over 6000 (83%) of those who registered measured as active learners. Fully participating learners were measured as 56%.
"All videos are lively, accurate, informative, full lengthy discussion" was one piece of feedback from a user.
The course is the HEE's first MOOC and is deemed to be a great success, not only in terms of the user response, but also in how quickly and efficiently it was created from a blank page, thanks to a great team chosen and steered by Alison Potter.
Because this MOOC is designed to work with on tap support, more launches are planned for 18th May 2020, 6th July 2020 and 7th September 2020. If you are interested, access is free here:
https://www.futurelearn.com/courses/level-3-safeguarding-adults
To see a clip from the course see our portfolio page here.