When redesigning our office we decided we wanted to put pictures on our walls that reflected our company values; friendly, open, expert, creative and professional.
So we put our five value words in a hat and each team member picked one out. We then chose an image which, to us, reflected our value word.
Here are the images we chose to represent our values and why.
Friendly
Chosen by Melanie Hickmore, Managing Director
David Bowie and Mick Ronson: Lunch on Train, 1973

I first came across this image on the wall of café Motu in Brighton, an infamous greasy spoon where I've enjoyed numerous breakfasts, all of which have been shared with friends.
So to describe friendly I could think of no better image, best of friends David and Mick, on a journey together. It feels like a real privilege to witness a moment of these rock heroes down time. Sharing good food, good company, its soul love, it's what true friends do. Mirroring body language shows total rapport, they even hold their knife and fork in the same way. The way they look at each other, they are fully engrossed in the moment. Totally in tune, they wore the clothes, their painted faces, these boys keep swinging, they share more than their love of music, they share the same lives. These young dudes are the epitome of friendly.
Open
Chosen by Francesca Cane, Marketing and Relationships Manager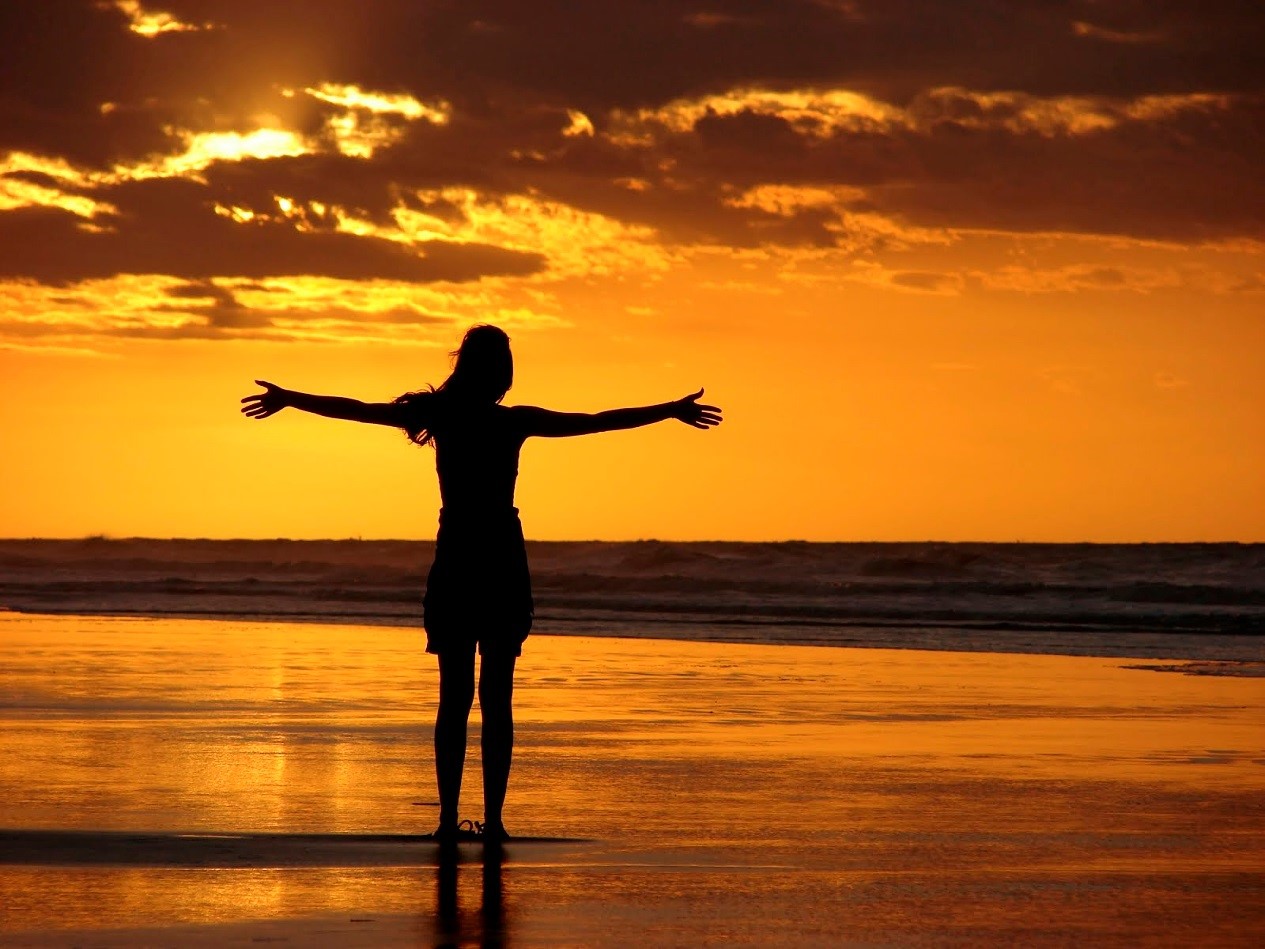 I took a more literal approach to choosing my image than my (apparently, much more) creative colleagues. I chose a silhouette of a person with their arms open.
Being a Brighton based company, with the beach at the end of the street our office is on; I thought it'd be fitting to get a shot of sea in the background. Also, open sea emphasises the openness, right?
Since I chose the image I have been informed that it looks like a silhouette of me. So it may either be my subconscious, vain attempt to get a photo of myself on that wall, or a reflection of what I see when I think of myself as being open.
You can decide.
Expert
Chosen by Nick Coombs, Head of Production
When I picked out the word expert from the hat I didn't know what to think at first, does that mean video expert, technical expert or storytelling expert? So I started to think about the word 'Expert' in relation to our company and values and thought well we're all about telling the story to get learning across so it would be a storytelling expert and then it hit me – Directors, and who do you think when you think expert director, Nolan, Scott, Scorsese? No the first name that comes to mind has to be Hitchcock. He is greatly regarded as a master of storytelling, and after looking through lots of images I settled on the one you can see now. I like this image because it shows him as relaxed, in control but confident of his ability, in short an expert.
Creative
Chosen by Tom Hickmore, Creative Director
I don't want a picture that is a creative expression, I want a picture that enables creative vision.
I'm gliding through the woods on a spring evening looking up at the sky. Birds are singing and I can smell the earth. I am a tiny creature beneath a large plant. An atom in the universe. The trees are the blood in my veins. My body is the sky. It's a creative space!
Does it do it for you?
Professional
Chosen by Richard Gibbons, Cameraman and Editor
In our case, with our tightly knit team at Nice Media, professional has to cover pretty much all aspects of what we do. Individually though, that doesn't seem enough. The way I see it, there is one thing that holds everything else together.
Whether we're in the office or on a shoot, pre-production or post-production, professionalism surpasses simple notions such as how you conduct yourself or the quality of the final film. In my mind, the keystone of professionalism is for everybody to work together as one. Without this, everything else would rapidly decay.
This leads me swiftly to the Bauhaus artist, Wassily Kandinsky. More specifically, his 1923 painting Circles in a Circle. Of course, interpretations are very much in the eyes of the beholder, but when I look at this I see some kind of machine blueprint. I imagine that if one of those circles were to spin, they would all spin collectively.
Either that, or it's just a big petri dish full of lens filters.